We've been nominated for the Ellen Stewart International Award – and we need your vote!
The Missy Elliott Project is a five year body of work that we started delivering in Manchester, Leeds, Sheffield and London in 2017. So far we've made 'live' Missy Elliott music videos, a 360degree film and the very early stages of a new musical developed by teenagers who self identify as women and non binary, agender and gender variant people.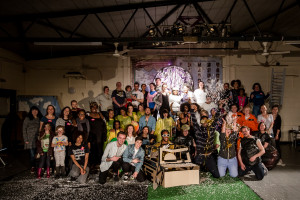 The project takes Missy Elliott's work as a starting point to explore afro futurism and think about how teenagers of colour might want to imagine and shape the future.
In Sheffield, we made a short documentary with some of the participants from the project. You can watch it here!
We love this project. We love it because it celebrates the genius of black women and femmes – not just their strength and capacity to endure, but also their incredible creative power – and this is embodied in the figure of Missy Elliott and the teams we work with.
Please vote for this project for the Ellen Stewart International Award.
We've been shortlisted alongside 10 incredible artists based all over the world. The winner will be awarded with a special two week residency at La Mama Umbria, in Italy, where we will work on the next phase for the project – which includes a new Virtual Reality programme and an internationally touring musical.
You can vote for us here – it will only take two minutes and we will be forever grateful.
And please let other people know! We need as many as we can get.
http://www.ellenstewartaward.net/?page_id=678